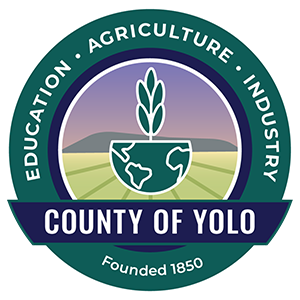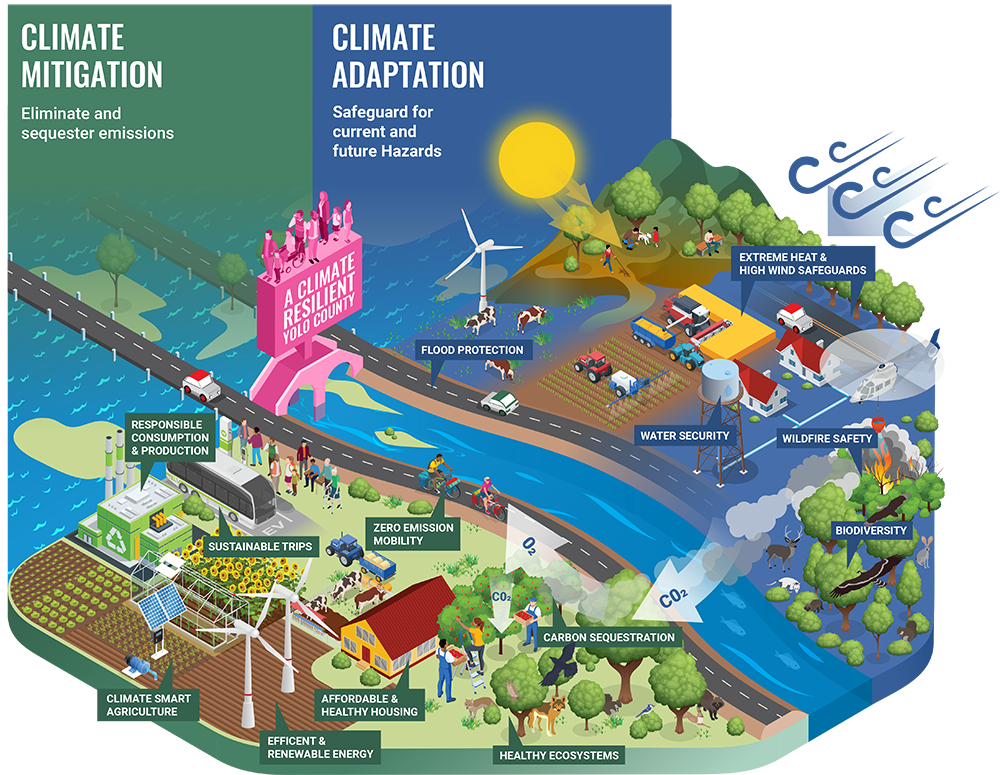 Frequently Asked Questions
What is a Climate Action and Adaptation Plan (CAAP)?
A Climate Action and Adaptation Plan (CAAP) is a roadmap that outlines the actions that Yolo County will take to meet greenhouse gas (GHG) emissions reduction goals and help our community be more resilient to climate impacts such as higher temperatures, more frequent wildfires and floods, and drought.
Why is Yolo County developing a CAAP?
In September 2020, the Yolo County Board of Supervisors approved a Climate Emergency Declaration that set the goal of meeting a carbon-negative footprint by 2030 while ensuring a just transition to an inclusive, equitable, sustainable, and resilient local economy. Driven by public input, the CAAP will include recommendations for how we can lower emissions, protect our natural resources, use more renewable energy, support sustainable agricultural practices thar are already thriving here in Yolo County, and more. The CAAP is designed to benefit all community members and to promote health, equity, and resilience in all processes and outcomes.
What is a Just Transition?
Meeting our climate goals will require some big changes or "transitions" in our energy use, transportation system, and more. Yolo County wants to make sure that this transition is equitable and "just", and that vulnerable communities and those most impacted by climate change are not only protected, but also play a central role in the decision-making process. Ensuring a Just Transition is a key focus point for the CAAP.
Can you define climate adaptation and resiliency?
Climate adaptation refers to the actions taken to prepare for and respond to the impacts of climate change. It involves adjusting and planning for the potential changes in temperature, precipitation, sea level, extreme weather events, and other climate variables to reduce vulnerabilities and increase resilience.
Resiliency, in the context of climate change, is the ability of individuals, communities, systems, institutions, and businesses to withstand, recover, and thrive in the face of climate change and chronic stress. It involves building systems and structures that can absorb and adapt to the changes brought about by climate change, while also preparing for future impacts.
What is a carbon-negative footprint?
This means that Yolo County will remove more carbon from the atmosphere than we produce. We will do this by reducing our emissions, while also supporting practices that increase the amount of carbon stored in our soils (also known as carbon sequestration).
Does the CAAP include the cities in Yolo County?
The CAAP specifically covers the unincorporated area of Yolo County (the area outside of our four cities), and our outreach is focused on the unincorporated area and communities that have historically been excluded from planning processes. However, Yolo County hopes to coordinate closely with the Cities of Davis, West Sacramento, Winters, and Woodland; the Yocha Dehe Wintun Nation; UC Davis; and other partners to align goals and projects in our planning process.
Sign up for the Yolo Sustainability Newsletter by visiting this link (sign-up is at the bottom of the page). The County will be hosting outreach events and community workshops throughout the CAAP development process, and will share important information, opportunities to participate, helpful resources, and more. You can also follow us on Instagram and Facebook!
We would also like to see you at one of our monthly Climate Action Commission Meetings (the 4th Monday of the Month from 4-6:30PM). For agendas and Zoom link, visit this link.
Climate Action and Adaptation Plan Timeline
Join one of our upcoming meetings
The Natural and Working Lands Technical Advisory Committee
The NWL TAC engages the agricultural community in the CAAP process.
The Equity and Engagement Technical Advisory Committee
The E&E TAC advises on community engagement and ensures the CAAP achieves a Just Transition.
The Yolo County Climate Action Commission
The Commission is charged with developing and implementing the CAAP.
Yolo County Board Chambers or Via Zoom
What does climate action, resilience, or sustainability in Yolo County mean to you? Share your story and/or photos for a chance to be featured on our social media pages!
Do you live in Yolo County? We want to hear from you! Complete our ten minute survey before September 22nd to share your thoughts on climate change and the actions the County should take to reduce greenhouse gas emissions. Survey participants will have the opportunity to be entered into a drawing for gift cards and other prizes!
Yolo County Climate Emergency Resolution
In September 2020, the Yolo County Board of Supervisors passed and adopted Resolution No. 20-114, which declared climate change a crisis requiring action. The resolution called for a just transition towards an inclusive, equitable, sustainable, and resilient local economy, and a call to support and advocate regional, national, and international efforts necessary to reverse the climate, social justice, and economic crises.
The resolution directed the creation of the Yolo County Climate Action Commission, which was charged with advising on the development and implementation of a new Countywide Climate Action and Adaptation Plan to become carbon negative by 2030.
Please see below for links to summaries of previously held workshops.
Contact Us
Do you have questions about the CAAP? Feel free to reach out to us via email at sustainability@yolocounty.org, or send us your thoughts through the contact form below!